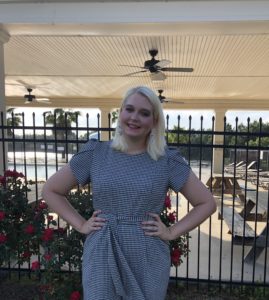 Hello! My name is DaChanna Carter, the Director of Coastal Cathedral Early Education Center. I truly have a passion for this position, and I aim to continue the mission that Pastor Carter has set forth to provide childcare to the most vulnerable populations in the city of Savannah. I look forward to seeing all of these children grow in their education and their love of Jesus Christ.
A little bit about me: I have been married to my husband Nathan for 3 years, and we have a dog named Wesley. I have a Bachelor's degree in Biology and am also a licensed Emergency Medical Technician. I am also a certified childcare center Director through the state of GA. My background is in management in the medical field. I chose to switch career fields because I truly have a passion for children, as well as teaching the love of God. In the past, I have enjoyed working with children in children's church, and I also was a substitute teacher. I love Coastal Cathedral, and I have a huge vision for where the Center can go!
I am very open to communication, so please feel free to reach out with any questions! 🙂
DaChanna Carter
Welcome! Coastal Cathedral Early Education Center opened August 2017 as part of the larger vision of Coastal Cathedral Church of God. The first few years of a child's life are vital, and we look forward to partnering with your family as your child(ren) begins his or her journey to preschool and beyond. Coastal Cathedral Early Education Center provides care to children from six weeks to five years old. We strive to provide a Christ-centered environment that encourages spiritual, social, emotional, intellectual, and physical growth. Our teachers are here to partner with you to provide your child(children) with the best possible Biblical education. We are excited to begin this school year, and we welcome you to the Coastal Family!
DaChanna Carter, Director
Employment Opportunities:
To apply, complete application below and turn in to the Center along
Required education:
High school or equivalent
Employees Must Be Able to:
Provide a warm, nurturing, safe, sanitary environment
Adhere to/implement age appropriate programs for children
Maintain a clean and safe environment for our children, parents/guardians and staff
Carry out the all assigned duties as set forth by the job description
Interact with each child in a manner that supports self-esteem, encourages independence and shows respect
Maintain a positive working relationship with fellow staff members
Establish and maintain positive communications with parents
Attend all required staff meetings and training sessions
Lift at least 50 pounds
Sit comfortably on the floor and interact with children
Change position frequently during the day
Meet or exceed all Bright from the Start rules and regulations
ALL APPLICANTS MUST PASS A CRIMINAL BACKGROUND CHECK & DRUG SCREENING. APPLICANTS MUST HAVE A MINIMUM OF 1 YEAR CHILDCARE EXPERIENCE
.